If you read our introduction to Medicare, you now know it will not necessarily cover all of your health expenses. You may wonder how you will pay for expenses that Medicare does not pay for. Enter Medicare Supplement coverage, most commonly known as Medigap.
As the name somewhat states, Medigap helps you cover the "gaps" of medical costs Medicare expects the patient to pay.
What does Medigap cover? How much does it cost? Do I get nationwide coverage? We will be answering these questions and a lot more throughout this article.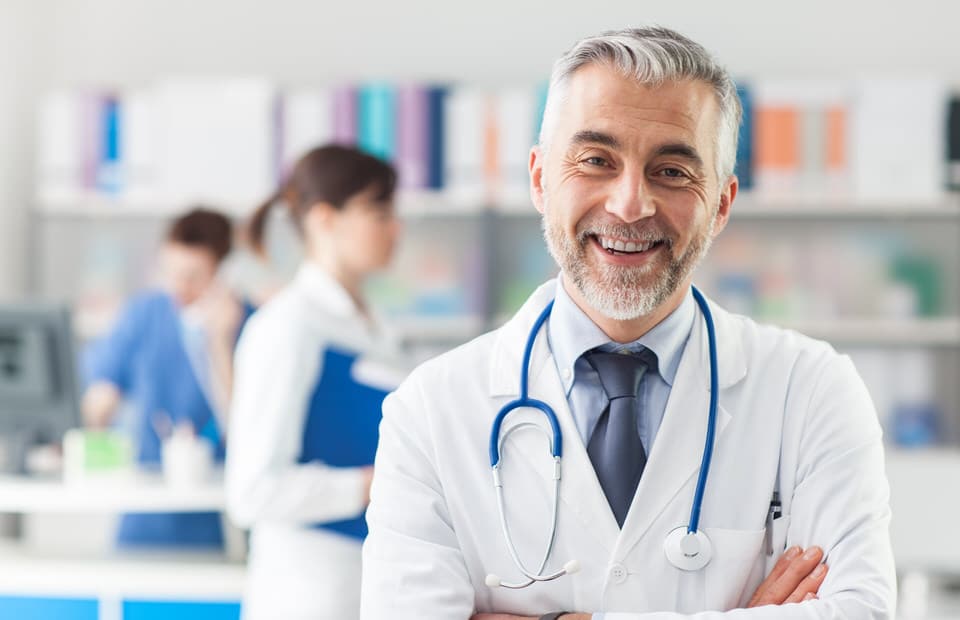 What does Medigap cover?
To understand what Medigap covers, it is always helpful to review what Medicare does not cover. Here is a brief summary of what Medicare may not pay for:
20% of all your medical costs
Deductibles
Coinsurance
15% of excess charges
First 3 pints of blood
Foreign travel emergencies
You may already know that Medicare covers you up to 80% of your doctor and hospital expenses. A Medigap plan can pay for the remaining 20%.
Medigap can also pay for deductibles. Medicare Part A has a deductible of $1,600, and Part B has a deductible of $226. Most Medigap plans will cover your Part A Deductible, and a few will even cover your Part B Deductible too.
Certain Medigap plans, like Medigap Plan G, can also cover the 15% excess charges that many doctors and facilities pass on to you, as well as the first 3 pints of blood not covered by Medicare. Not only that, but up to $50,000 in foreign travel emergencies is available to you.
Given all of these benefits, it is easy to see why Medigap enrollment has been increasing.
Medigap Options
There are currently 10 different lettered Medicare Supplement plans available for purchase. Let's take a general look at what each plan covers. There will be a breakdown waiting for you below it.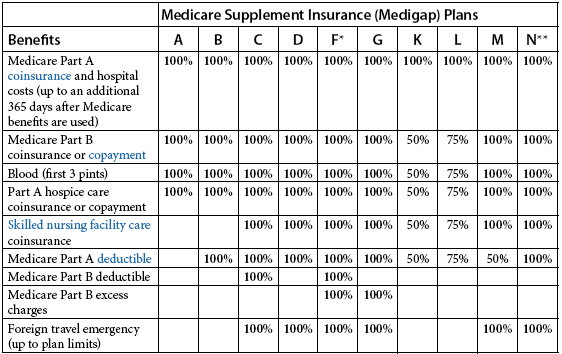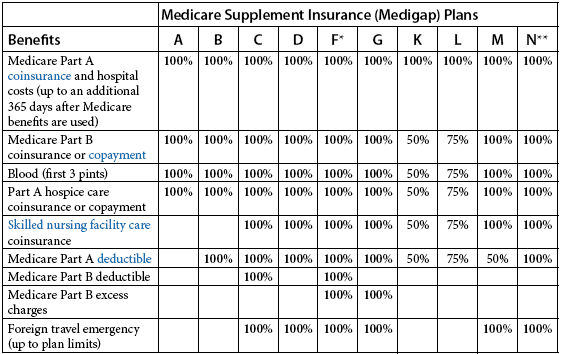 As you may have noticed in the chart above, some plans like F and G stand out because their coverage is far greater than the others. Those are the ones you want to consider.
Why? Because they offer better coverage and they don't generally cost more than the ones that cover less! We know, it's a little weird. It has something to do with risk. Often times, the more members a Medigap plan has, the less risky it is to the insurance company. This means a popular plan with rich benefits can cost less than an unpopular plan with limited benefits.
The majority of all individuals who select Medigap only purchase 3 plans: Plan F, Plan G and sometimes Plan N. These are, by far, Medigap's Most Popular Plans by enrollment,and really these are the only plans most people should consider as they are usually the best priced plans.
NOTE: Plan F is non longer available for purchase for those new to Medicare.
If you live in certain states, you will also find similar plans with an additional word added to its title such as:
These plans have the exact same core coverage and use the same network as their lettered plan, but also add additional benefits like hearing and vision. If you live in a state where those plans are available, you should definitely consider them.
Not only is it important to compare Medigap plans, but also to compare them with Medicare itself. Check out this table showing Medigap Plan G and Plan F compared to Medicare.
| Benefits | Original Medicare Alone | Original Medicare With Medigap Plan G | Original Medicare With Medigap Plan F |
| --- | --- | --- | --- |
| Doctor Network | All Doctors that accept Medicare | All Doctors that accept Medicare | All Doctors that accept Medicare |
| Part A Hospital Benefit Period Deductible | You pay $1,600 | You pay $0 | You pay $0 |
| Hospital days Coinsurance | You pay $400 per day for days 61-90, $800 per day for 60 lifetime reserve days | You pay $0 | You pay $0 |
| Skilled Nursing Facility Coinsurance | You pay $200 per day from Day 21-100 | You pay $0 | You pay $0 |
| First 3 Pints of Blood | You pay 100% | You pay $0 | You pay $0 |
| Part B Annual Deductible | You pay $226 | You pay $226 | You pay $0 |
| Part B Copays/Coinsurance | You pay 20% (Part B deductible applies) | You pay $0 after Part B deductible | You pay $0 |
| Part B Excess Charges | You pay 100% (Part B deductible applies) | You pay $0 after Part B deductible | You pay $0 |
| Foreign Travel Emergency (up to $50,000) | You pay 100% | You pay 20% after $250 deductible | You pay 20% after $250 deductible |
How much does Medigap cost?
You may be thinking something along the lines of: "this Medigap thing sounds amazing and it's everything I have ever dreamed of (a little too much maybe), but is it something I can actually afford?"
There are several factors needed to take into account to be able to know your price. Some of them are the state you live in, the insurance company you choose, your age, the plan's pricing system, discounts you can find and even tobacco use.
That being said, Medigap plans can range from under $40 (for a high deductible plan) to over $300 depending on your age and zip code. Plan F is usually the most expensive of the popular options because it also covers your Part B deductible. Medigap Plan G, which doesn't cover the Part B deductible, usually allows you to save much more than that in the form of lower monthly premiums. This is usually the plan we recommend.
We have written a full article on Medigap costs, so check it out if you need more information.
When should you enroll in Medigap?
The best time to enroll in Medigap is when you are first enrolled in Medicare Part B. You have 6 months from your Medicare Part B effective date to enroll in Medigap, where you are guaranteed to be approved at the best rate regardless of your health history. You cannot be turned down or be subject to waiting periods because of pre-existing conditions if you enroll during this time frame.
If you have missed your Initial Enrollment Period, there are still ways for you to enroll. If you are enrolled in Medicare Part A and B but have coverage through work or a spouse, you may qualify for a Special Enrollment Period to enroll in Medigap. Again, you will not need to answer any medical questions, called medical underwriting.
If you missed your Initial Enrollment period and do not qualify for Special Enrollment, you can still enroll at any time but you will have to answer medical questions. You could be turned down for pre-existing conditions during the medical underwriting process.
On the plus side, if you are late to enroll in Medigap, there is no need to worry about penalties. Unlike Medicare Part B and Medicare Part D, Medigap does not have late enrollment fees.
If you are under 65 and qualify for Medicare because of a disability or End Stage Renal Disease, check out our article where we break down Under 65 Medigap State Rules.
Medigap's Doctor Network
Medigap does not have it's own doctor network. Your doctor network will be the same as Medicare's. Any doctor or facility that accepts Medicare must accept Medigap. Please re-read that last line because so many of our clients cannot believe it. Nationwide coverage is included in your Medigap plan because Medicare's network is nationwide. And just like Medicare, you will not need a referral to see a specialist.
Exception: Medicare has little to no coverage when travelling abroad. Medigap plans, however, can help cover foreign travel emergency expenses. The network for coverage abroad works differently.
Where to go next?
This network factor is one that you should take into account when deciding between Medigap and Medicare Advantage, which is a good next topic for you to review.
We don't want to overwhelm you with options, but it is nice to get the whole picture.
Remember you can always talk to one of our licensed agents who will help you review your options and enroll in the best plan for you. There is never a fee for our services and, since Medigap pricing is regulated, no one can sell the same plan for less than we do.