Now that you probably have a good understanding of Medicare, and you know it does not cover all of your health expenses, it is key to explore what else is out there as a means of coverage. Enter Medicare Supplement, most commonly known as Medigap.
As the name clearly states, Medigap helps you cover a lot of what Medicare leaves out, giving you a more comprehensive coverage at the expense of a monthly premium.
What does Medigap cover? How much does it cost? Do I get nationwide coverage? We will be answering these questions and a lot more throughout this article.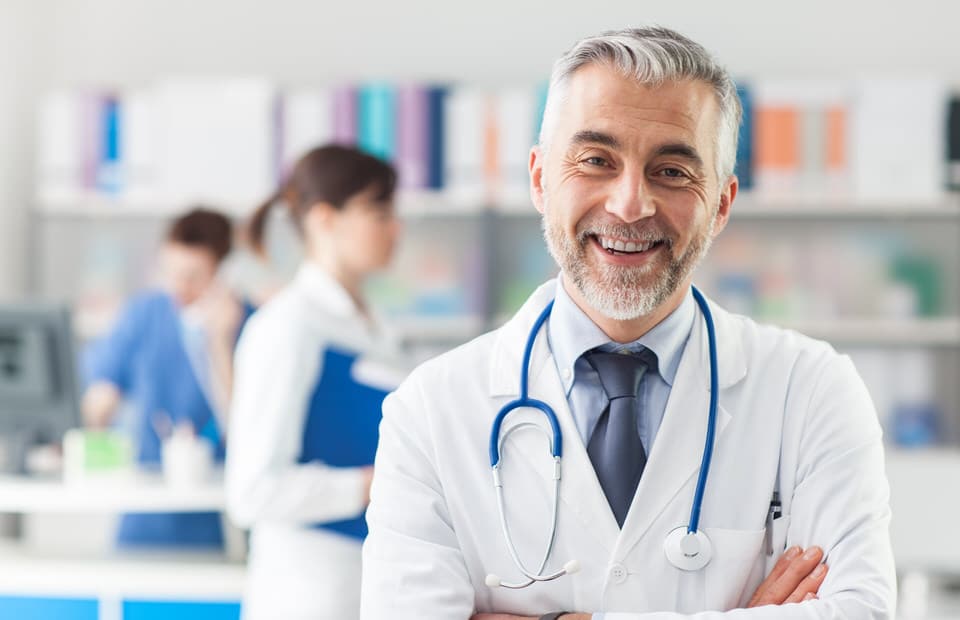 What does Medigap cover?
To understand what Medigap covers, it is always helpful to review what Medicare does not cover. Here we will only give a brief summary.
Deductibles
Copays and Coinsurance
20% of all your medical costs
15% of excess charges
First 3 pints of blood
Foreign emergency healthcare
You may already know that Medicare covers you up to 80%. A Medigap plan will take care of the remaining 20%. This means that whatever Medicare covers, Medigap will cover too.
But wait, what happened to those deductibles we mentioned? Well, Medicare Part A has a deductible of $1,484, and Part B has a deductible of $203. Almost any Medigap plan will cover your Part A Deductible, and there are options that will cover your Part B Deductible too.
Let's not get ahead of ourselves. We will be discussing differences between plans in a moment.
Medigap Options
There are 10 different lettered Medicare Supplement plans. Each has its own coverage and costs can vary. Let's take a general look at what each plan covers. There will be a breakdown waiting for you below it.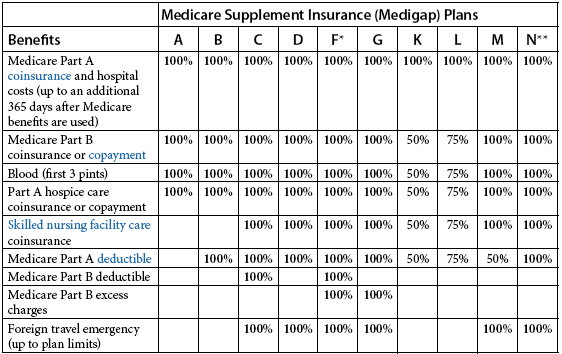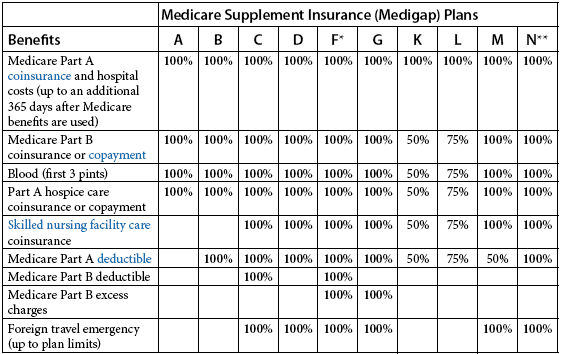 If you took a really close look, you may have noticed that some plans stand out because their coverage is far greater than the others. Those are the ones you want to consider.
Why? Because not only they will pay for more, but they also don't generally cost more than the ones that cover less! We know, it's a little weird.
Those plans we are talking about are Plan F, Plan G and sometimes Plan N, which are definitely Medigap's Most Popular Plans.
In this category, you will also find plans called Innovative or Extra, such as Innovative F. Stay with us, it is not such a mess as it looks like.
These plans have the exact same coverage as their letter, in this case F, but also add hearing and vision benefits. If you live in a state where those are offered, that is definitely the plan you want to get! For now, they can only be found in California and Nevada.
Not only is it important to compare Medigap plans, but also to compare them with Medicare itself. Check out this table showing Medigap Plan G and Plan F compared to Medicare.
| Benefits | Original Medicare Alone | Original Medicare With Medigap Plan G | Original Medicare With Medigap Plan F |
| --- | --- | --- | --- |
| Doctor Network | All Doctors that accept Medicare | All Doctors that accept Medicare | All Doctors that accept Medicare |
| Part A Hospital Benefit Period Deductible | You pay $1,484 | You pay $0 | You pay $0 |
| Hospital days Coinsurance | You pay $371 per day for days 61-90, $742  per day for 60 lifetime reserve days | You pay $0 | You pay $0 |
| Skilled Nursing Facility Coinsurance | You pay $185.5 per day from Day 21-100 | You pay $0 | You pay $0 |
| First 3 Pints of Blood | You pay 100% | You pay $0 | You pay $0 |
| Part B Annual Deductible | You pay $203 | You pay $203 | You pay $0 |
| Part B Copays/Coinsurance | You pay 20% (Part B deductible applies) | You pay $0 after Part B deductible | You pay $0 |
| Part B Excess Charges | You pay 100% (Part B deductible applies) | You pay $0 after Part B deductible | You pay $0 |
| Foreign Travel Emergency | You pay 100% | You pay 20% | You pay 20% |
How much does Medigap cost?
You may be thinking something along the lines of "This Medigap thing sounds amazing and it's everything I have ever dreamed of (a little too much maybe), but is it something I can actually afford?"
There are several factors needed to take into account to be able to know your price. Some of them are the state you live in, the insurance company you choose, your age, the plan's pricing system, discounts you can find and even tobacco use.
That being said, Medigap plans can go from 40$ to $200. Plan F is usually the most expensive of the popular options, close to $150 monthly, because it covers your Part B deductible. If you downsize to Plan G, the difference in price almost always makes up for that, which is why most of the time this is the plan we recommend.
We have written a full article on Medigap costs, so check it out if you need more information.
When should you enroll in Medigap?
This one is easy. Once you are about to turn 65, specifically 3 months before, your Medigap Initial Enrollment Period kicks in. It expands until 5 months have passed from your birthday month, giving you a total of 9 months to enroll in a Medicare Supplement plan.
If you are not automatically enrolled, this is the period for you to enroll in Medicare, and once you have Part A and Part B, only then you can enroll in Medigap.
Why is this the best period to enroll? Well, because you are guaranteed to be approved to get Medigap. Insurance companies are not allowed to turn you down because of pre-existing conditions if you enroll during this time frame.
If you have missed your Initial Enrollment Period, there are still some ways for you to enroll. You may have been still working or plan to do so during this period, in which case you will get a Special Enrollment Period to enroll. Again, you will not need to answer any medical questions, called medical underwriting.
If you did not enroll in Medigap during this time frame and you do not qualify for Special Enrollment, you can still enroll. The difference is that you could be turned down for pre-existing conditions.
On the plus side, no need to worry about penalties since Medigap does not have them, as opposed to Medicare Part B and Medicare Part D, which is your prescription coverage.
If you are under 65 and qualify for Medicare because of a disability or End Stage Renal Disease, check out our article where we break down Under 65 Medigap State Rules.
Medigap's Doctor Network
Since Medigap covers everything that Medicare does (and more of course), your doctor network will be the same as the Medicare one. Nationwide coverage is thus included in your Medigap plan. You even get coverage for a foreign travel emergency.
Where to go next?
This network factor is one that you should take into account when deciding between Medigap and Medicare Advantage, which is a good next topic for you to review.
We don't want to overwhelm you with options, but it is nice to get the whole picture.
Remember you can always talk to a Senior65 agent who will help you review your options and enroll in the best plan for you. As we say all the time, we charge nothing for our services and guarantee the lowest price allowed by law.