How does senior dental insurance work? Dental coverage (or lack thereof) depends on which insurance you have. Let's review the major options below: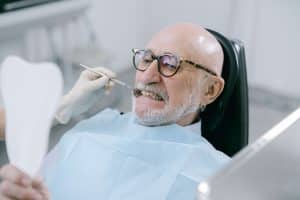 Original Medicare Part A and B do not cover routine dental visits and procedures such as filling, tooth extractions or dentures. Medicare can cover some expenses for dentistry-related hospitalizations. Most individuals on Medicare select a separate dental plan to address their regular dental needs.
Medigap plans can cover your Original Medicare deductibles, copays, and coinsurance for rare dentistry-related hospitalization, but generally Medigap does NOT cover dental.
Medicare Advantage (MA) can cover dental but since MA plans are not standardized, dental coverage and benefits vary from plan to plan. If you are considering a Medicare Advantage plan that does offer dental, make sure to check the dentist network and the maximum payout (how much the MA plan will pay towards your dental in one year). That will help you know how robust the coverage is.
Stand Alone Dental
Stand Alone Dental insurance name is a good descriptor. They are separate dental plans that you can purchase regardless if you have Medicare or not. These plans cover a wide variety of dental services. The level of coverage (100 percent, 80 percent, 60 percent, or 50 percent) will depend on the plan and the type of service provided. Below we have provide examples of how many dental insurance providers break down coverage.
Type I Services
Prophylaxis
Oral evaluations
Bitewing X-rays
Vertical bitewings
Diagnostic casts
Type II Services
Intraoral films, extraoral films and panoramic film
Amalgam, primary or permanent and resin-based composite
Palliative (emergency) treatment of pain
Fixed partial denture sectioning
Local anesthesia
Inhalation of nitrous oxide
Occlusion and analysis and occlusion adjustment
Type III Services
Inlays and onlays
Crowns; cast posts and core buildups
Pin retention in addition to restoration
Sedative fillings
Endodontics
Oral Surgery
Prosthodontics
Periodontics
A typical plan might pay 100% for Type I service but only 50% of Type III. They may also have a 6 month waiting period or longer for Type III services.
How much does senior dental cost?
Stand-alone dental plans are offered by private insurance companies and usually cost between $20 to $40 a month, though it can be lower than that.
How do I sign up for senior dental?
You can first get a dental quote and then apply online following the steps or you can also give us a call to get you enrolled on the phone.
When can I sign up for a dental plan?
Unlike other coverage like Medigap or Part D, you can sign up for a stand alone dental plan whenever you want. It usually starts the first of the following month but some companies require longer. Often times you do not have to be 65 in order to buy one, as most companies do not differentiate between seniors and non-seniors.
Can I switch my dental plan?
You definitely can. You just have to apply for a new one, but don't worry, you are guaranteed to be approved. Still, please do not cancel for former plan until you have received confirmation that you are enrolled in the new one.
Is Senior dental worth it?
Usually Senior Dental can save you money on regular teeth cleanings and check ups over just paying those fees directly to the dentist. Just make sure you select a dental plan that includes your dentist "in network".
You should also find a plan with a decent "maximum payout." As we mentioned above, the maximum payout is the most the insurance company will pay towards your dental cost in one year. Some plans have very low maximum payouts and should be avoided.