One of the most important facts to know about Medicare Supplement (Medigap) plans is the price. Since all Medigap plans have standardized benefits, price is the biggest difference between insurance companies. This is not such a straightforward question to answer, as one might think.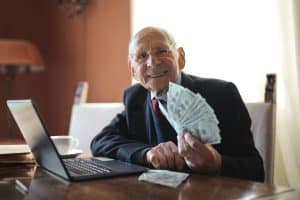 For starters, there are 10 different standardized Medicare Supplement plans with different costs and coverage.
Not only that, but the following issues can affect your price:
The state you live in
The insurance company you choose
Age
Available discounts
Tobacco use
Gender
The best way to find out how much a plan costs is to get a customized quote. It takes only one minute and can factor in all the above criteria.
The price for Medigap can range from somewhere around $40 to $300. This can be even higher for under 65 disabled Medigap enrollees in states without laws to protect them.
What is the Starting Cost of the Most Popular Medigap Plans?
Below are quick estimates of what you might start paying for Medigap's most popular plans. Remember this is just an estimate. Your price will have to factor in all the bullet points listed above. And remember, according to the Health and Human Services, the average Medigap plan increases about 4% each year.
Medigap Plan F used to be the most popular Medicare Supplement plan. You must have turned 65 before 2020 to purchase Plan F. It is the most comprehensive plan out there. The price for Plan F starts around $150 but can go as high as $300 for those who are older.
Medigap Plan G replaced Plan F as the most popular plan in the country. Plan G covers everything F covers except the Part B deductible of $226. It can start as low as $75 depending on state, age, etc.
Medigap Plan N has a lower premium than G or F and should be considered if you cannot afford the above. It does not cover the Part B deductible or the dreaded Medicare Excess Charges. Also Medigap Plan N has a $20 copay for doctor visits and a $50 copay for emergency room. It starts around $110 but could be much more in your state.
Medigap High Deductible F and High deductible G are much cheaper than all of the other plans for the simple fact that they have a deductible of $2,700. Their premium starts from as little as $40 in some states.
All the other Medigap plans like D, L and K are rarely competitively priced so you should mainly focus on the popular plans outlined above.
Please Note: Innovative Plan G and Innovative Plan F (both with same benefits as their counterpart but with additional hearing, vision and sometimes acupuncture and chiropractic coverage) are available in CA and a few other states. Their prices are usually comparable to standard F and G. We explain why below. Compare prices here.
What can affect the cost of a Medicare Supplement plan?
Like we stated above, there are many variables that can reduce or augment your premium apart from the benefits of your standardized plan. Let's go through them in detail.
Company
Even if you enroll with one of the best Medigap companies, that doesn't guarantee you will receive the best Medicare Supplement price. Medigap prices even at top insurance providers vary greatly from state to state. Aetna may have the lowest priced plan G in one state but Cigna may have it in another. This is largely due to their actuarial tables and market share.
The more members an insurance provider has in one area, the less risk they carry. When a company has more members, especially if they are younger and healthier, premiums can be significantly lower because they carry less risk that a few clients' medical claims will outpace the money coming in in the form of monthly premiums. This is what happens with the new Medigap Innovative F and Innovative G mentioned above.
Location
Your area can have a major impact in your overall cost. This is mainly due to local regulations. Connecticut and New York, for example, have higher Medigap premiums than those of Texas because CT and NY have protections in place that allow members to enroll or switch plans without health reviews.
This drives up cost in those states as the providers are forced to enroll less healthy members than in Texas. As you may know, Texas (and most states, for that matter) can decline members who do not qualify for initial enrollment or special enrollment.
Tobacco use
Whether or not you are smoker can also affect the amount you pay. Tobacco users tend to pay around $15 more for their Medigap plans.
Extras and Discounts
Different Medigap companies tend to offer different discounts such as household discounts, new to Medicare discounts and even autopay discounts. These discounts can really impact what you end up paying. Contact us to find the best one for you.
When is the best time to enroll in Medigap so that I pay less?
While there is a lot of discussion about the average premium and how every variable affects it, there is none when it comes to the best period for you to enroll.
This is the period that starts 3 months before you turn 65, runs through your 65th birthday, and ends 3 months after. Enrolling when you are first eligible guarantees you will start out with the best rate. Those who delay can see their price go up when they enroll.
How can I make sure to pay the lowest rate available for me?
That is where we come in. We at Senior65.com dedicate ourselves to help people enroll in Medigap, Medicare Advantage and Part plans at no additional cost. There is never a fee or hidden charge to work with Senior65.com. Since Medicare insurance pricing is regulated, no one can sell you the same plan for less than we can.
We make sure you are in the best plan and best company for you, taking into account every variable described above and more. Contact us at 800-930-7956 or enroll online.