Medicare is split into two parts: Part A covers hospitalization services and Part B covers day-to-day medical care. This article focuses on Medicare Part A, but when you are done, check out our Medicare Part B Costs, Fees and Coverage page.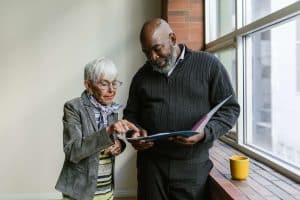 This article was updated on August 19, 2022
Medicare Part A Covers
In general, Medicare Part A covers:
Hospital care
Skilled nursing facility care
Nursing home care (as long as custodial care isn't the only care you need)
Hospice
Home health services
Your Costs with Medicare Part A
Most people receive Medicare Part A premium-free but without a Medigap or Medicare Advantage plan, you must pay the following fees for services:
Hospital deductible for each benefit period: $1,600
Hospital Days 61-90 is $400 per day
Hospital Lifetime Reserve Days 91-150 is $800 per day*
Skilled Nursing Days 21-100 is $200 per day
Hospice care: no more than $5 for Rx
Hospice care: May pay 5% for respite care
No limit on your out-of-pocket costs
*Medicare offers 60 lifetime reserve days after that period all hospital costs are your responsibility.
How to Reduce Medicare Fees
There are two main options to pay for the Medicare Part A fees above, if you are not insured through your employer or receive VA benefits: 1) Medigap and 2) Medicare Advantage. Remember you must be enrolled in BOTH Medicare Part A and Part B to enroll in either of these insurance options.
Medigap

Medigap fills in the gaps by covering deductibles and coinsurance that Medicare leaves. For instance, Medigap Plan G covers all your coinsurance, copays, coinsurance, excess charges, adds an additional 365 hospital days, and offers foreign emergency healthcare. With Plan G, once you pay your monthly premium, you only have to pay (as long as Original Medicare covers it) your Medicare Part B deductible ($226) once a year.
All Medigap lettered plans are standardized, therefore you only need to choose a plan based off price and company stability.
Medicare Advantage

Medicare Advantage (MA) replaces Original Medicare. MA plans trade a large nationwide network for a small HMO-like network with added benefits such as Rx, dental, and vision. At a minimum Medicare Advantage must cover all that Original Medicare covers, but your MA plan may cover services differently. There is a max out of pocket cost as high as $7,550 with MA. 
Medicare Advantage plans are not standardized, therefore you'll need to put some time in to research which plan best meets your needs.
Next Steps
For further questions about how to cover your Part A costs call the number above or get an instant Medicare Insurance quote to see benefits side by side. To learn about Medicare Part B, visit our Medicare Part B page here.
Get Instant Rates
Check out what your exact price for Medigap, MA or Part D would be.
Click Here